UEFA 2012 European Football Championship Opening Ceremony
AGP Agency Inc. New York designs music for UEFA 2012 European Football Championship Opening Ceremony being performed at Warsaw National Stadium June 8th 2012

Adam Gyorgy at Carnegie Hall Stern Auditorium/Perelman Stage
13th November 2011
Sunday Night with Adam Gyorgy Esplanade Concert Hall Singapore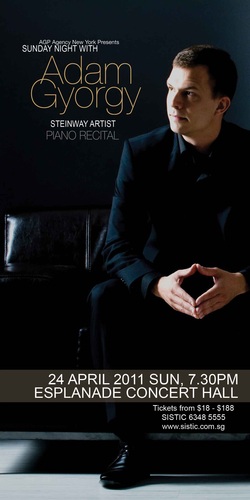 AGP Agency New York proudly presents Adam Gyorgy at one of Asia's most prestigious Concert Hall, the Esplanade Concert Hall in Singapore.
"This (...) Magyar lad was channelling Horowitz -- and beyond.. there is no doubt that Gyorgy knows how to make a 12-foot concert grand sing, how to make the line flow and swell."
- Ken Krimstein, CultureCatch, New York - Carnegie Hall, 2008

Adam Gyorgy is regarded as one of the finest Liszt players in the world, and the Liszt ambassador in his home country, Hungary. He is also known for his inspirational improvisations on his recitals. He performs his favorite repertoire at the Esplanade Concert Hall, including the famous Liszt Sonata in b minor, as well as virtuoso Liszt Transcriptions, a Paganini Liszt Etude, a Hungarian Rhapsody, and his own improvisations. In 2005, Adam was invited to join the Steinway community, a single honor that places him in the company of the greatest pianists of all time. This recognition led him to his debut at New York's famed Carnegie Hall in 2008, where he played to a full house. From Prodigy to Liszt ambassador, Adam Gyorgy enchants audiences everywhere he performs. His virtuosity and his sensitive interpretations have won him critical acclaim awards and built him a fan base worldwide.


Adam Gyorgy provided scholarship to Singaporean piano students to attend his Piano Academy (The Adam Gyorgy Castle Academy) in the last two years, creating cultural bridges between Asia and Europe. He continues supporting young Singaporeans from his foundation in New York, The Adam Gyorgy Foundation.

Adam's tour schedule honors Liszt's 200th birthday as well as celebrating Hungary's Presidency of the European Union In Washington DC, Ottawa, Jakarta, and Singapore.
Follow Adam Gyorgy's concert tour at www.adamgyorgy.com

---